About the trip
The top predators of Wisconsin waters. Chasing these fish all day is not for the faint of heart. It takes endurance, focus, and desire (a little luck never hurts either) to put one of these beasts of prey in the net. Are you up for it?
The Wisconsin River system is some of the best river musky fishing in the country. The Lower Wisconsin isn't exactly known as "Musky Country" but they are there, in good numbers too. We target muskies on a numerous different Wisconsin river stretches with success, but we try not to overlook the great pike fishery that the Lower Wisconsin is. As the musky populations dwindle in the lower reaches the pike population thrives and with the LWR being a year-round fishery we are able to target pike in the prime spring months.
What are we fishing for?
Fish Species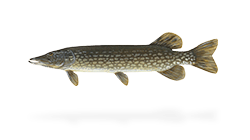 Northern pike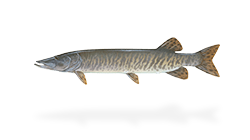 Muskie
Fishing Style
Jetboat/wet-wading. You can expect to fish out of the boat for most trips. We try to avoid bringing these large fish into the boat and will often ask you get out to capture a picture with them. Be prepared for the best situation. 
What's included?
Full, ¾, and ½ day guided outings
Full days are 8 hours. ¾ days are 6 hours. Half days are 4 hours
Famous Cuisine
Half days include water. ¾ day include water and light snack. Full days include water and streamside lunch
Terminal Tackle
Leaders, tippets and flies.Additional equipment may be rented upon request.
A darn good time!
We can't control the conditions, but we can control what you learn!
Rates
| Group size | Half Day | ¾ Day | Full Day |
| --- | --- | --- | --- |
| 1-2 | $350* | $450* | $550* |
| 3+ | Contact us | Contact us | Contact us |
*Rates subject to change. Prices are based per boat—two anglers per boat, two boats available. For lessons and group trips please call or email.
Toothy Critters FAQ
I'd like to arrive the evening before my fishing trip, where should I stay?
Sauk City, WI is the best hub city for fishing on the LWR. Please see our Lodging Options for more detail.
I am a beginner is this trip for me?
If we're being honest here, it certainly helps to have the basics down for this style of trip. You by no means have to be an expert but having cast a rod before certainly ups your chances and landing a fish.
What time do we start in the morning?
This is dependent on the time of year and the conditions the day of fishing. Generally speaking, we will start between the hours of 6AM – 9AM.
Do we still fish if weather is bad?
Weather is uncontrollable, that's the bottom line. Bad weather doesn't always mean bad fishing however. Some of our best days have been on some of the most challenging days weather-wise. We will fish rain or shine as long as we are safe (no lightning). If there is wiggle room to reschedule we will allow you the option. This is on a trip by trip basis. Come prepared to fish in whatever mother nature throws at us.
How much should I tip?
Generally, as a starting point, consider tipping your guide 10% of the trip cost. If the guide went above and beyond it wouldn't be unusual to increase your tip to 15% or even 20%.
I'd like to experience The Crash—is this trip for me?
Short answer: no. If you're looking to fish The Crash, check out Crash Camp for an overnight experience on the Lower Wisconsin River (recommended), or Lower 'Sconnie Smallmouth for a day trip. Fishing The Crash is limited both by season and spots, so get in touch ASAP!
Don't see the answer to your question? View all FAQ or email us directly.
Drive Times
Chicago
3h 15m (170 Miles)
Milwaukee
1h 50m (106 Miles)
Minneapolis
4h (254 Miles)
Des Moines
4h 21m (280 Miles)