About the trip
You spoke, we listened. During the first couple years of BEAC we had a couple anglers ask about overnight trips on the Lower Wisconsin Riverway (LWR), we said we'll try to make it happen. Enter Crash Camp, a world-class overnight experience chasing smallmouth on the LWR. Crash Camp is a specialty trip consisting of blocked off dates set in the prime of the natural phenomenon known as The Crash. Ever hear of topwater fishing? Well, this is the epitome, and in case that's not enough, you and your best fishing buddy will receive a catered overnight camp on the magnificent LWR.
Sit back, watch the fire, enjoy a beverage and prepare to practice your storytelling.
What are we fishing for?
Fish Species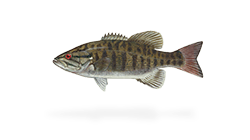 Smallmouth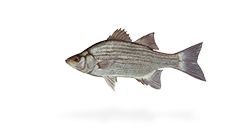 White Bass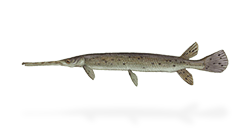 Gar
Fishing Style
Jetboat/wet-wading. This can be custom tailored to you. If you like wet-wading we can often choose to get out of the boat and fish via foot. If you don't like to wade, no problem, we can fish from the boat all day. Just let us know.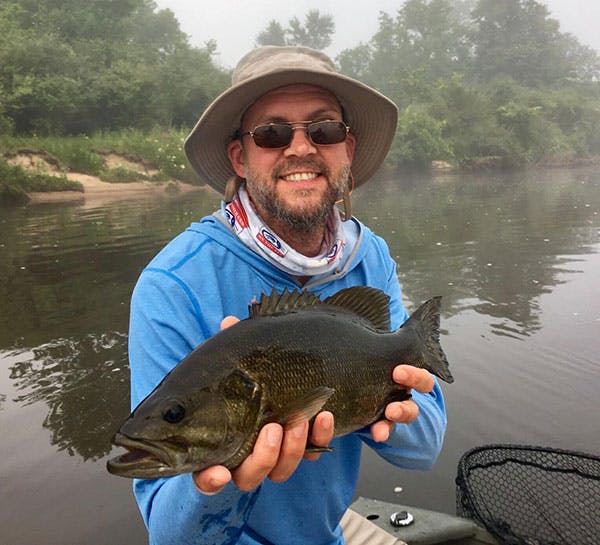 "
"I've been fortunate to experience some pretty good Smallmouth fishing in my lifetime, but Crash Camp raises the bar to a whole new level. The itinerary is well planned, the setting is unique, the food is amazing, and the fish are hyper aggressive. Book the trip already and come experience it for yourself. I've got the "giggles" just thinking about it."
— Mike K.
Madison, WI
What's included?
One or two-night stay
One night includes two fishing sessions (PM & AM). Two night includes four fishing sessions (2-PM & 2-AM)
Famous Cuisine
This will be some of the finest riverside meals to grace your taste buds.
Prime Crash Dates
We know exactly when to get you out there for the best action.
LWR-Catered Camp
Designed to be plug and play. We've got the tents and cots, you just need your sleeping bag and fishing gear.
Terminal Tackle
Leaders, tippets and flies.Additional equipment may be rented upon request.
Rates
| Group Size | One Night | Two Nights |
| --- | --- | --- |
| 1 angler | $600* | $1,200* |
| 4+ anglers | Contact us | Contact us |
*Prices are based on double occupancy—two anglers per boat, two boats available. Once booked, group will be provided with information packet.
Custom camps are available upon request (bachelor parties, corporate parties, birthdays, etc.)
Crash Camp FAQ
Is Crash Camp for me?
Crash Camp is a remote camp—there are no facilities, electricity, or running water. The bugs will likely be bad in the evenings. Camping is done in tents, but with cots to keep you off the ground for added comfort. What do you get for "roughing it?" A chance at some of the best damn fishing you've ever had.
For those that regularly camp this will seem like "glamping" (glamour camping), for those who do not, this will be roughing it. Whether you are the experienced camper or the city slicker, we can assure you there will be peace and quiet, solitude (unless you choose weekend dates), and plenty of beautiful nature to surround you.
I'm a solo angler. Can I get my own boat or do I need a partner?
Due to the demand of Crash Camp the price is based on double occupancy. You can have your own boat but at the price of two anglers. If you are a solo angler wanting to take part in Crash Camp, let us know and we can try and find another solo angler to partner you up with.
What are the sleeping arrangements like? Do I need to bring anything in regards to lodging?
Two people to a six-person tent. Each person has their own cot. Each person will need to provide their own sleeping bag and pillow.
I'm not interested in Crash Camp but would like to experience "The Crash." Is that possible?
Yes. Crash Camp is simply a specialty camp. You can experience "The Crash" during one of our day outings. Check out Lower 'Sconnie Smallmouth for more information.
When is the best time to book?
As early as possible! Crash Camp fills up each year due to growing number of repeat "campers" Don't wait!
What happens if there is bad weather?
We hope it is sunny, the wind calm, and the air dry, however, we know this isn't always the case. Your dates are scheduled far in advance, so is our planning for this great event. We are there to fish, to camp, and to have the best time possible. We will fish rain or shine, as long as we deem the weather non-severe (aka. No lighting or gale force winds). We cannot control the weather and will do our best to be prepared for whatever is thrown at us. Please keep in mind that we ALL must deal with what hand mother nature deals us. For this reason, refunds cannot be given unless you miss more than 75% of your allotted fishing time due to serve weather. Please come prepared with a fish-no-matter-what attitude. If the weather is such that we are unable to overnight, we will stay at Kyle's house, The Black Earth Retreat.
Don't see the answer to your question? View all FAQ or email us directly.
Drive Times
Chicago
3h 15m (170 Miles)
Milwaukee
1h 50m (106 Miles)
Minneapolis
4h (254 Miles)
Des Moines
4h 21m (280 Miles)